Project Runway might be getting a little long in the tooth in its 9th season (!) but the concept is still so much fun. I was reminded of that on Wednesday at Cosmo Couture, a charity fashion show that challenged interior design firms and architects to create garments out of fabric samples and furnishings. My company had an extra ticket for the runway show at the Artisphere, and I was lucky enough to attend and help support our team.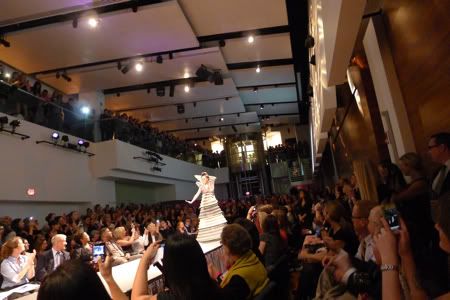 In 2011, when no one has to make anything by hand and most things we see around us are mass-produced, it's fun to see what talented, creative people can create with the most unlikely materials. Creating something from nothing.
OK, maybe I'm waxing philosophical. The whole event was just plain fun. As the evening's emcee noted, Lady Gaga has nothing on these designs.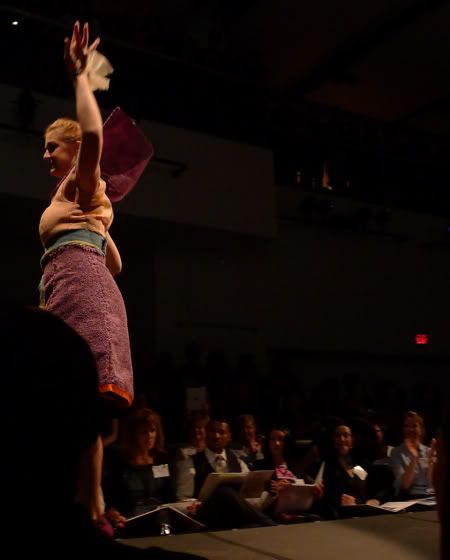 It is really hard to take photos at fashion shows. I just got a fancy new camera that I love, but I obviously still have a lot to learn about it, because my photos didn't come out very well. I put it on "Sports" scene mode. There ought to be a "Runway" mode.
Here's the judging panel, taking copious notes.
People using their iPads as cameras at events cracks me up. Maybe this is the new normal, but for now I say it looks silly.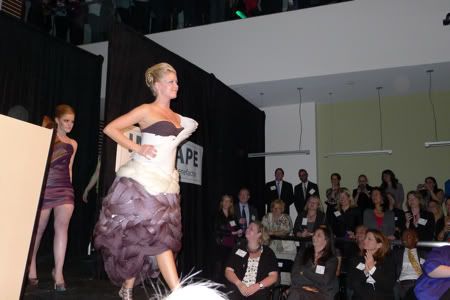 There goes Audrey, wearing our firm's design. It was the prettiest one, in my estimation. The others were aiming for edgy, not pretty.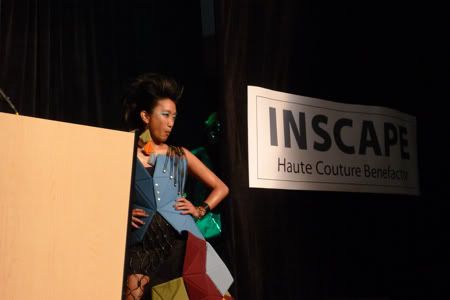 I didn't know that my former coworker Jenny was going to be in the fashion show. Not only was she in the show, she won the award for best model! She was so fierce! Mohawk, crazy eyeliner, badass attitude. She had a better walk than a lot of America's Next Top Model contestants I've seen, and I've watched at least six cycles, ha.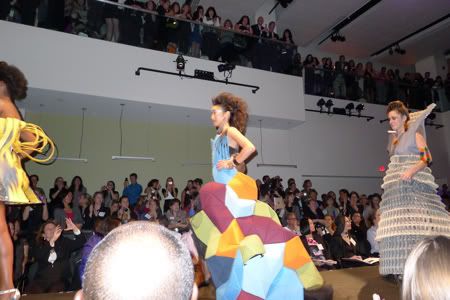 Luther and I sat near the stage, and Jenny told us after the show that she heard us saying "Jenny? Is that Jenny?" right as she turned the corner. It almost made her break character.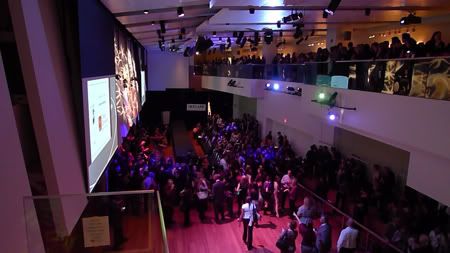 I loved the venue too. The Artisphere is enormous! It's new-ish, modern, with a sweeping staircase and an auditorium. If you get the chance to go to a party here, take it.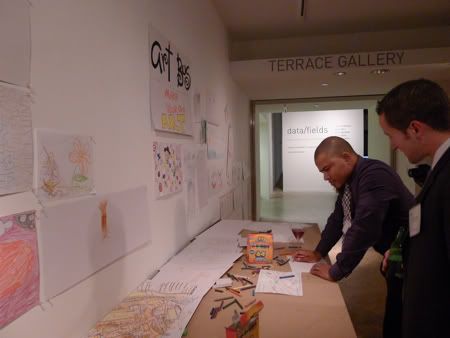 Grown-up coloring, cocktail in hand.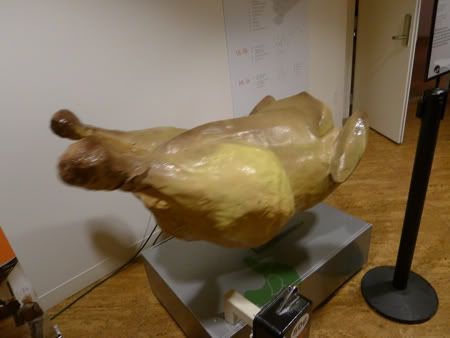 Could this turkey sculpture actually be a ride, like outside grocery stores in the '90s? There was a coin box, and I had to try it out. I put in my 50 cents, waited, and nothing! I've been scammed. But then, just as I was about to walk away, the turkey started bucking like a bronco. Everyone in the vicinity turned around to stare at the galloping turkey. It would be worth a trip to the Artisphere, just to see that, right?