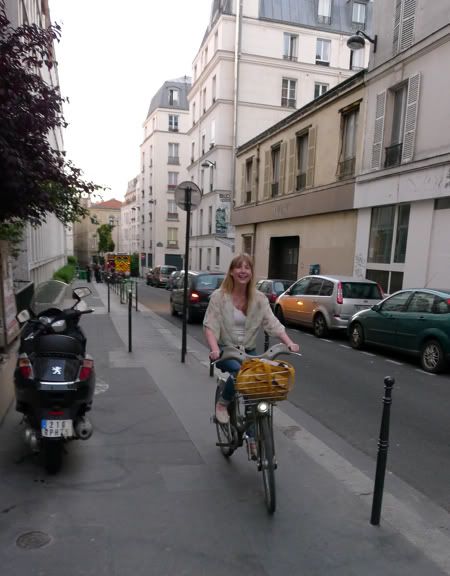 I asked Joe to write about Paris Bikeshare vs. DC Bikeshare. Before he gets to it, I just wanted to share a tip if you decide to try the Vélib' system when you are in Paris. I was worried about whether our American credit cards would work in the bikeshare machine. I tried to research this but it was inconclusive as to whether you need a chip and pin credit card. So on the advice of Oh Happy Day, I bought my pass online. I didn't bother with the Navigo pass she mentions, and instead just bought the 7-day pass off the Vélib' website. That gave me an ID number, I create a pin code, I then printed out the sheet with that info and carried it in my purse. When you get to station, head to the computer terminal, hit the language button, enter those codes and select your bike! Worked like a charm.
I also wanted to add another note about how nice people were - a young guy saw us struggling with the computer and came over to help. So nice!
And now here's Joe:
Adele was kind enough to invite me to pen a guest post about our adventures in shared bicycling. Many of you know that I've been trying to ride my bicycle as much as possible recently. Not only is it nice to get out in the fresh air and burn a few calories, but every trip I take by bike means those miles don't go on the odometer of the 1996 Honda Civic that was handed down to me by my younger sister (it is the last in a long line of hand me down automobiles that started with a beautiful 1986 Saab 9000 that I bought with money earned by selling some cannily bought Microsoft stock, so it's not like I'm a complete charity case).
After buying an (expensive) starter bike a few years ago I enjoyed it so much decided I needed a completely unnecessary upgrade. Too many hours perusing what I lovingly refer to as "bike porn," I settled on my beautiful 2009 Cannondale SuperSix Hi-Mod. Full carbon. SRAM Red group. Helluva bike. Race ready.
My second bike is decidedly more humble. Fenders. Whitewall tires. Did I mention I have to share it with 25,000 of my closest friends? That said, I might derive both more pleasure and utility from the Bikeshare bike. For $75 a year I have access to caches of bikes spread across the city. For no additional fee, I can grab one and sprint off to any neighborhood I can get to in 30 minutes or less. If you hustle, you can get almost anywhere worth visiting. Some of my favorite memories over the past year have been riding to or from a new bar or sandwich shop and just enjoying the sights and sounds of the city with Adele and our friends.
As Adele and I (read: Adele) started planning our recent trip to France, we learned that Paris has a similar system, Velib, which is decidedly more expansive due to what I can only guess are more generous taxpayer subsidies. They did just elect a socialist president, after all.
Knowing that I'm obsessed with the DC version, Adele jumped online and purchased two temporary Velib passes. The French system did not disappoint. The bikes are basically the same. Ours are much easier to dock. Theirs ride a bit faster and have a basket that is infinitely more useful than the stupid half-basket/bungy system here in DC. Their stations are a bit closer together with many more docks per station, but from my observations they have the same problems with the most popular stations emptying out when you really want a bike and being full when you arrive in a hurry.
Paris traffic was a bit intimidating at first, but the network of bike/bus lanes and more or less unused back roads offered what turned out to be a wonderful way to explore the neighborhoods around our apartment. Aside from the occasional inconveniently full or empty station, I really do think bike sharing is the wave of the urban future. One of the main reasons I moved back to DC from Indiana after college was because I pined for a dense urban core that lent itself to walking and public transit. The bikeshare has more or less replaced the bus and the train in my arsenal of transportation options. I can hop on a bike and be almost anywhere in the city much faster and more cheaply than I could get there by car, bus, or train. For free. While getting a bit of exercise.
I have to admit I haven't researched how much DMV taxpayers have had to put up for the system. I just know that the $75 annual fee is a steal as far as I'm concerned. I've also ridden hundreds of miles while my car has sat safely parked and I didn't burden the roads or the public transit system. A little government-led problem solving has gone a long way. Approximately 340 miles in my case.