I love to read food blogs, so when Joe told me that he and his good friend Andy planned to host a joint birthday party, I finally had an opportunity to make all the fun party food that would be strange for me to cook for myself.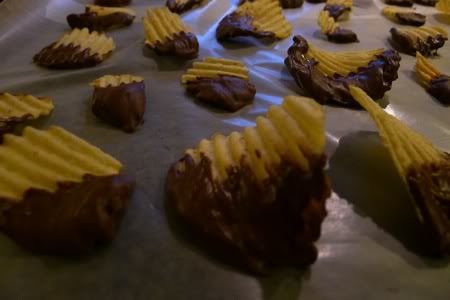 Like chocolate-covered potato chips. I found the recipe from the very fun blog Spoon Fork Bacon. Just what America needs right? Greasy salty chips covered in sugar. Eh, it's a party, I say.
I hand-dipped every single potato chip from a family size bag of Wavy Lays into a vat of milk chocolate. "These are bespoke potato chips," Joe said. It took a very long time. Once I started, I couldn't stop, and covered every available flat surface with potato chips on wax paper.
The ones photographed on Spoon Fork Bacon are eerily perfect. My chips were lumpier because I had a hard time getting the perfect amount of chocolate on each chip. But dang, they tasted good anyway. If there is ever a situation to use the word "dang," I think it should be when describing chocolate-covered potato chips.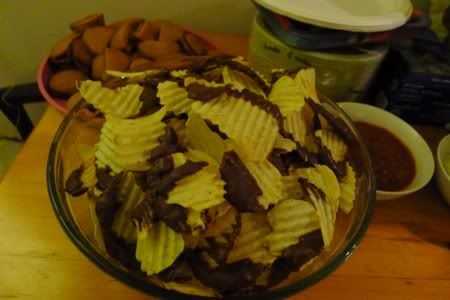 Behind the potato chips, you'll see dulce de leche sandwich cookies via Joy the Baker, who is the cutest person ever, at least judging from her blog. I love her, and the rest of the recipes I cooked are from her website. This party was brought to you by Joy the Baker.
These cookies might not look like much, but they are the best I've ever made. I've made three batches this year, by popular request. It's easy too. A can of dulce de leche serves as the filling, with some sea salt sprinkled on top. I'm very into the salty/sweet combination.
I also made baked brie lollipops. Joy's baked brie look prettier than mine, but I was just happy they didn't explode in the oven, as some commenters mentioned. I was using Joe's oven, so no skin off my nose if they did. Haha. No that was easy too. I convinced Prudence to come to the party by saying that I would serve "fancy Hot Pockets on a stick." I think that would be my food truck concept as well.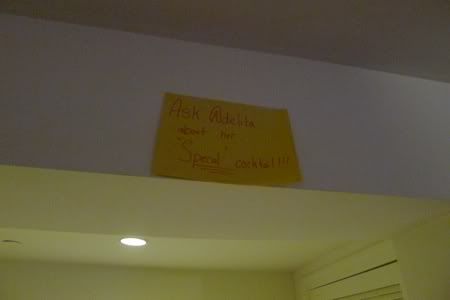 Alex made a sign advertising my mixology skills. Not sure why "special" is in quotes. Is he humoring me? I made another Joy the Baker recipe, rosemary lime cocktails. These are so good. I have a heavy hand with the vodka too. Prudence said that I would be distracted, talking to someone, meanwhile the vodka bottle is going "glug, glug, glug."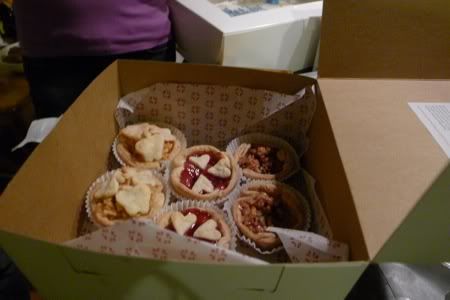 Someone bought in mini-pies from the new Pie Sisters in Georgetown. Georgetown Cupcake, will this put a crack in your empire?
The birthday boys blow out the candles. [Not pictured, the awesome friends who made the trek in the cold to help us celebrate].
I wore my party dress meant for a six-year-old for this special occasion. The print has little horseys, bunnies and teddy bears on it.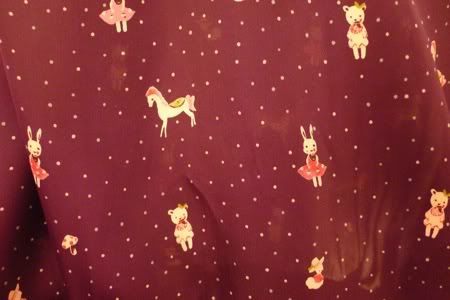 I don't wear this dress very often. I tried to wear it to the office, but I felt like the bunnies might make it less than professional. I still love it though, it's from a stall at an amazing flea market in London. So I've only worn it a handful of times, and one time I was wearing it, waiting for the bus and a girl walks by wearing the exact same dress I was wearing. What? I'd expect that for a F21 sweater, but what a coincidence.
Happy birthday, Joe! So looking forward to spending your 31st year together!