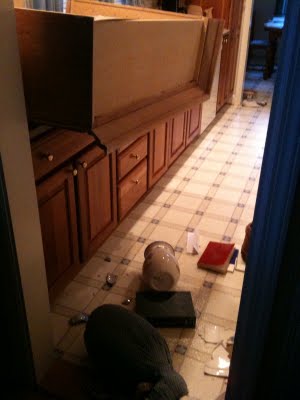 This is what I saw this morning when I went into the kitchen of the house where I'm dog-sitting. "Oh, that deafening crashing noise must not have just been in my dreams," I thought. "Oh dear."
The cabinet fell right off the wall - I never even considered that this could happen. It wasn't too much of a mess, considering, but what the picture doesn't show is that almost every dish inside is broken. I'm just going to leave that be.
Everyone, let this be a warning to you: check the tensile strength of your kitchen cabinets! One more thing you have to worry about.
This would happen to me... at least I wasn't killed by the cabinet, how tragic would that be? "She died doing what she loved," people would say. "Washing dishes."