Survived Halloween in New York, phew! My bus back to D.C. on Sunday was scheduled to leave at 4 p.m., so at 3:15 p.m. I left my friend's Upper West Side apartment and hauled my giant, unwieldy suitcase out to the street corner to hail a cab. But I made a grave miscalculation: it was the day of the New York Marathon and everyone and their grandmother needed a cab.
All the cabs were full and no one was stopping for me. Time ticked on, and I started to worry, really worry. Megabus drivers take no prisoners and care not a whit if you miss your bus. On the way to New York, my bus driver kicked riders to the curb left and right - first a girl without a ticket who begged to get on the bus, crying and accusing people of racism. Then as we pulled out of the parking lot and sat a stop light, another late rider ran up. "Can you open the door and let me in?" she asked.
"It's against regulation for me to let people in if we aren't at a stop. Are you going to pay my mortgage if I get fired? I don't think so!" the driver said as she gunned the engine and peeled out.
So it was in my best interest to catch this bus. I could try the subway, but there was track work and I can barely carry my suitcase as it is, let alone down dozens of steps and through turnstiles. Options seemed few and far between.
Then a kid in a pedi-cab pulled up.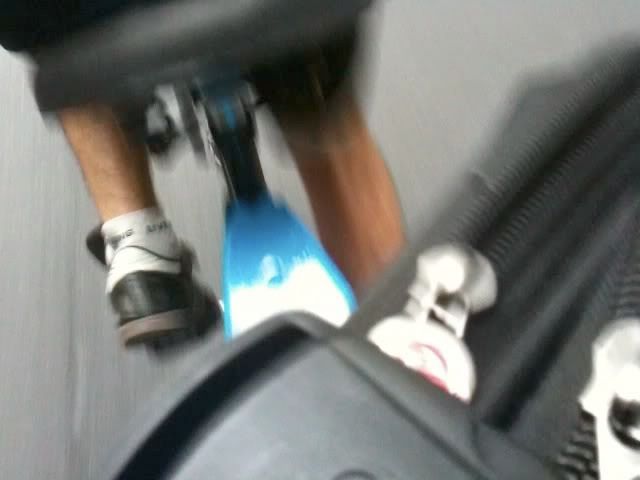 He said he could get me there by 4 p.m., no problem and no worry that I had no cash, we could stop at an ATM. What the heck, I thought. Worth a try. I called my friend who was going to walk out of her apartment and help me try to hail a cab. "Never mind, I got in a pedicab," I said. "You what?!" she said.
So this poor guy pedaled 60 BLOCKS, towing me and my giant suitcase. And he was going really, extremely fast, running red lights, dodging New York city traffic, at one point even picking up construction cones and rearranging them so he could get by. There were a ton of other pedicabs out too. They were all jockeying for position, it was straight out of Chariots of Fire. I kept looking at the clock, counting down the blocks and trying desperately at each pothole to make sure my suitcase didn't fly out into the street. I was also a little concerned about falling out into the street. Pretty exciting stuff.
Guess what - made it on the bus with seconds to spare! I think it might have even been faster than a car because he ran so many red lights. I was really worried about the biker's health though, he must have burned at least a thousand calories. When I came back from the ATM, he had gotten a hot dog from a street vendor and was scarfing it down. Cars run on gas, pedicab drivers run on hot dogs? "You totally deserve that hot dog," I said.
Also he was pretty much the coolest - he dressed as a gypsy woman for Halloween (his girlfriend went as Ghandi), biked across the U.S. in 9 weeks, and used the word "gusto" in conversation. Lou, if you are out there, I'm so sorry, I don't think I tipped enough - thanks for the ride, dude!!! Much obliged!