The people in our hostel dismissed the Blue Lagoon as expensive and touristy, which it is, but they left out the part about it being really fun! And beautiful, of course. I say, if you are a tourist in Iceland, you ought to go. This is the Disneyland of pools.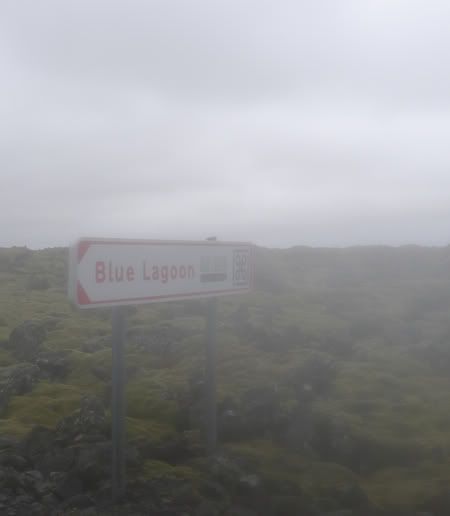 The entrance looked foreboding.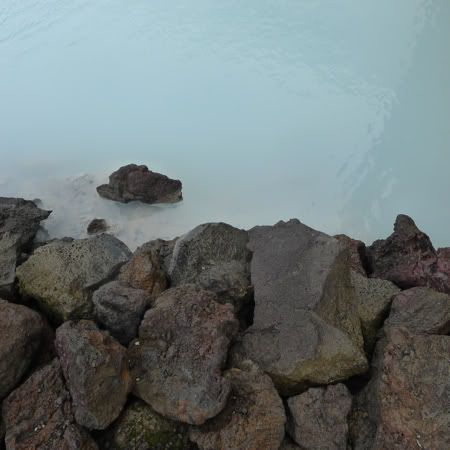 And the water was an otherworldly blue.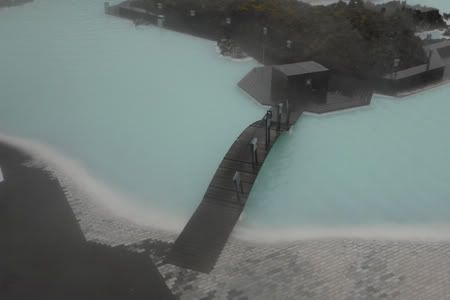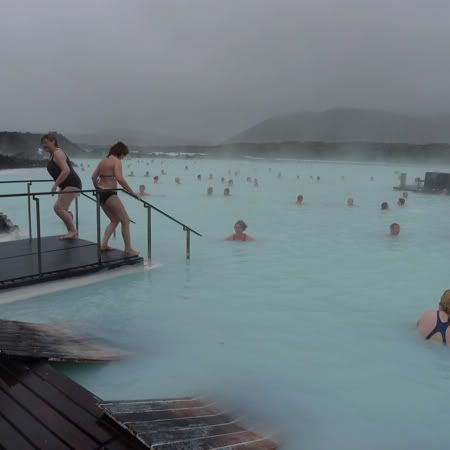 Everyone scurried out of the changing rooms and jumped into the warm water. The air was freezing. But there was a secret door from a hot tub inside to the outside pool, which was a nice touch. We wished that the temperature of the blue lagoon could be cranked up just a tad, but perhaps that is too much to ask.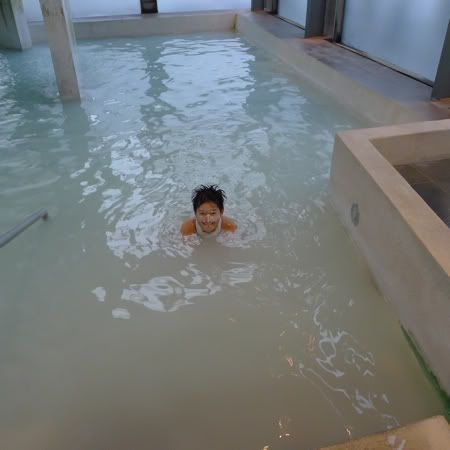 Here's Julie relaxing in the indoor hot tub. She has silica on her face, as a beauty treatment. There's boxes of silica around the lagoon, don't grab mud from the bottom of the pool, which we contemplated doing at first. We also got 20 minute massages in the Lagoon, which was really nice, even for someone as uptight about massages as me. When in Rome, right?
And if you go to the Blue Lagoon and value your hair, PLEASE wear a swimming cap. The water in the pool absolutely destroyed my hair. I put leave-in conditioner on it before I got in, but the next day it felt like straw. It was so dry and disgusting. I told my mom that when I got home, and she said "Yes, I was going to say that your hair looked weird," a statement which was definitely true, but still put me in a terrible mood. I wish I had sprung for the 100 kroners or whatever it was to get a swimming cap, and then I wouldn't have had to buy $26 hair mask from Sephora when I got home (this one is awesome though) and gotten 1.5 inches of damaged hair cut off. Learn from my mistake!
The inside of the spa was uber modern and sleek. Very lovely. They had fancy lockers that opened via a wristband. Of course it took me 15 minutes to figure out how to use it, grumbling the whole time. They are very serious about showering in public pools in Iceland, which I can understand. We went swimming almost every day at the geothermal pools around Reykjavik and I became a lot less prudish about public nudity, ha. Oh, the ravages of age that I have to look forward to. Just kidding. Sort of.
The first time I went to the pool, at the gigantic Laugardalslaug complex, I made the critical error of wearing my glasses instead of my contacts. I have terrible vision, so when I took off my glasses, all the naked people turned into pink blurs. Ha. If I couldn't see them, they couldn't see me, right? Maybe that was a good way to ease into the spa scene.
But I really loved the Icelandic swimming pool culture. Pools are open most of the day and night, and swimming was a fun thing to do when we had a spare few hours. We were often the only tourists at the public pools, which was great. It is the exact opposite of American pools in the summertime - instead of jumping into a cold pool to escape the heat, we ducked into a hot tub to avoid shivering in a bikini. I thought it was interesting that Icelandic children and pregnant ladies hung out in the hot tubs. Your fellow swimmers would probably have you arrested if you tried that in the U.S.
The night before we went dogsledding, we checked into a hostel near Laugarvatn Fontana, a brand new spa. It was gorgeous, Scandanavian-chic, overlooking a lake with a bunch of different saunas, hot tubs and pools. We were the only ones there, and I walked briskly from the locker room to a long, rectangular pool, trying to avoid hypothermia. I hopped in the main pool, and quickly realized that the water came up only to my knees. Ahhh!! So freezing out. I thought the water would get deeper so I could swim, but no, it was still knee-deep. I ended up sort of frantically half-crawling, half swimming the length of the pool toward the hot tub. I'm glad there was no one around to see that. What is the point of a 3-foot deep pool? No clue. Please weigh in, Icelanders.