So I have to tell you about the classic tourist mistake I made. After arriving in Paris on a red eye, finally getting the key, and then taking a moment to rest my eyes (which turned into a five-hour nap, whoops), we went out to dinner at a bar in our neighborhood. I took the photo above of my delicious duck entree and then put the camera down by my purse.
The next morning, we got ready for a day of sightseeing and I went to grab my camera. But it wasn't in my purse. It wasn't anywhere. Where was it? I couldn't have been stupid enough to leave my fancy camera outside the bistro. Could I?
Cue many tears and rending of garments. We went back to the bistro, and I tried to ask if they had found a camera. French wasn't even an option at this point, so I made a universal pantomime of a camera complete with an index finger click. "Oh, we'll take your picture," the man behind the bar said. No, no.
So Joe consoled me and I resigned myself to the fact that I had lost my $400 camera on the very first day of our vacation. I tried to pull it together and we set out to visit the Musée d'Orsay and Notre Dame. The following pictures are from Joe's camera.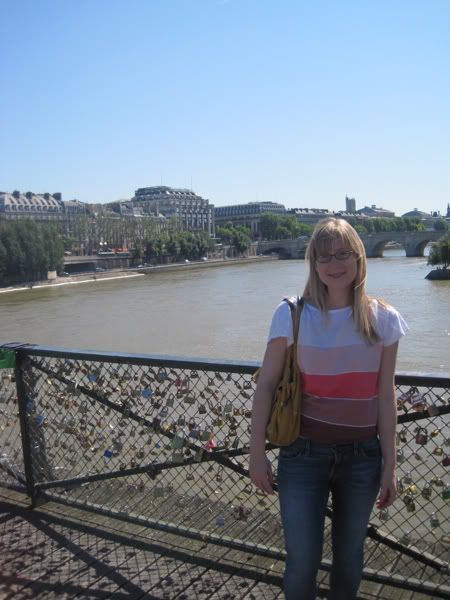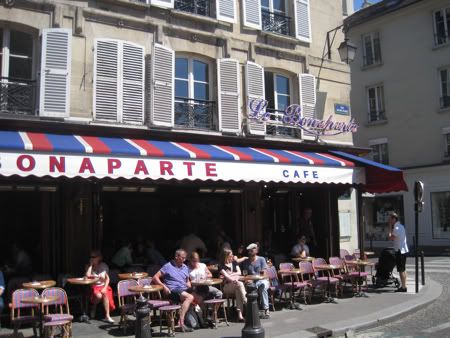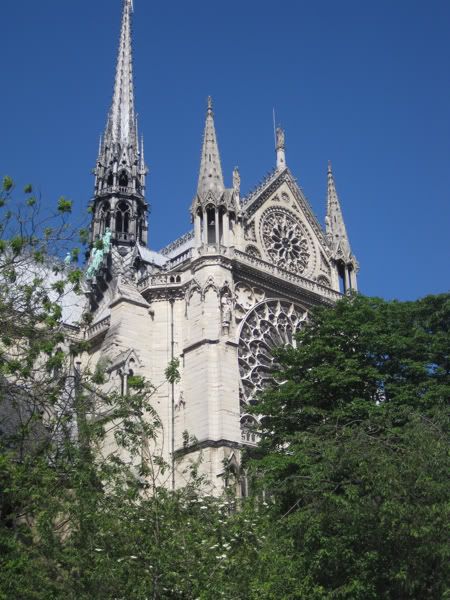 We walked around the Jardin du Luxembourg and watched Parisians sun themselves, children playing with sailboats, and an extremely lazy middle-schooler take a tennis lesson while Joe heckled him.
Sainte-Chapelle is so gorgeous.
It's so touristy, but I loved the Seine boat tour we took. Being out on the water on a gorgeous day, learning more about the city, what more could you want?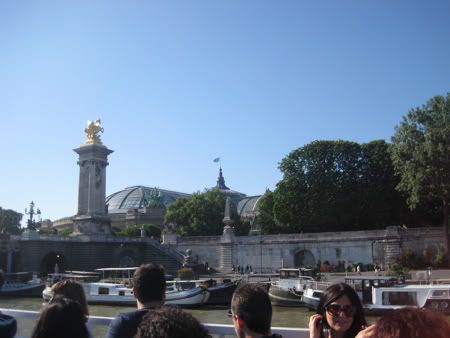 The guide on the boat tour told our group if we made a wish and kissed while going under a particular bridge, it would come true. I wished that I would find my camera. The choice was clear. Apparently, Joe made the same wish. (We both contemplated whether we should wish for the other one to love us forever, but went with the more pressing camera wish).
After the boat, we went back to the restaurant and the same waiter/owner from the night before was there. "You're back for the camera!" he said, and lo and behold, he pulled my camera out from behind the bar.
Ahhhhhhhh! Isn't that the nicest thing you've ever heard? He saved my camera for me! He didn't have to, but he did. And what are the chances of getting a lost camera back on vacation? The French will always have my heart after this.
We were so happy, and so thankful. Joe told the owner that he wanted to buy him a shot in celebration. As is American tradition. We all take a shot, then order beers. A few beers later, the owner said he would give us a tour of all the bars in the neighborhood. He left his post, leaving his lover/business partner at the helm and we proceeded to stumble in a bunch of bars, to be introduced as the owner's "American friends."
"Is he going to steal our kidneys?" Joe asked as we walked to the umpteenth bar.
A few shots later, I remember going back to the original bar, eating some sort of fromage/frites combination, but then all I remember is waking up in the apartment. No recollection of the walk home. When I opened up our door in the morning, the insole of my shoe was outside lying on the doorstep.