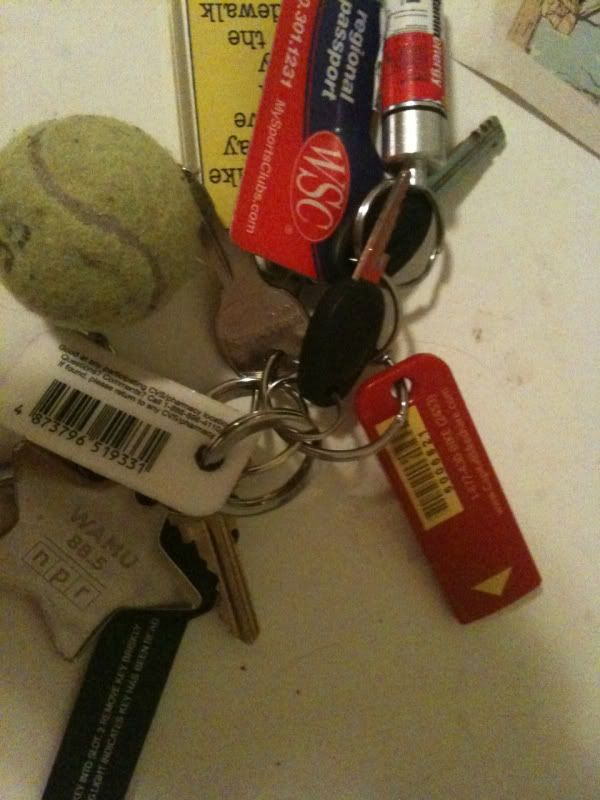 Like 8,000 other people, I bought the $40 Living Social deal for the Capitol Bikeshare. I feel like this key is such a status symbol now. The must-have yuppie accessory.
It's a perfect idea, though. Futuristic, even - the iPhone app has been great for seeing which bikes/docks are available. The bike sort of feels like a toy and you can't go very fast, but it's solid and so easy to use. It's a great tool to have in your non-automobile transportation arsenal.
If you can't tell, I'm sold. I've decided this is the way to travel. My poor Fuji remains in the basement, waiting for a tuneup.
I was riding a Bikeshare bike to H street to check out the $12 ramen place, possibly tweet about it - so trendy, right... As I rode down the street, I thought, "Wow, this is so pleasant....Aaaaaah!!" That was sound on repeat in my head as the bike wheel lodged itself in the trolley track on the street.
Rookie H Street mistake! I clutched the handlebars like a sea captain at the helm in a squall, careening wildly. "This is not good," was all I could think as I tried to right the bike, a look of panic surely on my face, but somehow I avoided crashing. I tried to ride off and pretend everything was cool, but a few passersby saw the whole thing. They probably keep a running tally of bikers felled by the trolley tracks.
OK, next time I'll know, stay far far away from the tracks.
Closing thoughts: I'm proud that D.C. is putting time and money into investing in this new technology and really helping it take off. The Bikeshare makes the city so accessible - everything seems within a quick bike ride. All this week, though, I've been reading about crime on the Prince of Petworth blog - shootings and stabbings during the day in crowded places like the Columbia Heights metro station, the National Zoo and 14th and V.
It's so easy to navigate D.C. streets now, but what's the point if you don't feel safe while doing so? I understand that I chose to leave Fairfax and live in the city, and I can't expect it to be as safe as the suburbs. I believe that it's not asking too much for citizens to be able to walk in broad daylight in high-traffic areas without witnessing an act of violence or God forbid, being involved. I don't know the answers to these complicated problems, but I think we should care about a basic level of civility and safety and we should expect our elected leaders to do the same.